School Committee Picks New Superintendent
Video. The Boston School Committee, by a vote of 5-2, chooses as the new superintendent Tommy Chang, an administrator from Los Angeles. Report aired March 4.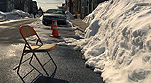 Time Limit on Space-Savers Gets Mixed Reaction
Video. The end of extended time for space-savers to secure parking spots, taking effect March 2, draws mixed reaction in South Boston. Report aired March 2.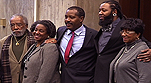 Black History Celebrated in City Council Chamber
Video. A celebration of Black History Month takes place in the City Council's Iannella Chamber, sponsored by council members and Blacks in Government. Report aired February 26.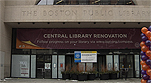 Renovations Unveiled at Boston's Central Library
Video. New children's, teen, and non-fiction areas get a make-over as part of the renovations at the central library of the Boston Public Library. Report aired February 23.
Teens Rally for State Funding of Jobs Programs
Video. Teens rally near Copley Square then march to the State House to push for continued support of jobs programs. Report aired February 19.
Launch Held for "Mayor's Mentoring Movement"
Video. More volunteers are being recruited to help young people in Boston through the Mayor's Mentoring Movement, an effort by the city and Mass Mentoring Partnership. Report aired February 18.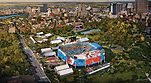 Questions Aired on Boston 2024 Olympics Bid
Video. Opponents and sceptics raise questions at the first in a series of meetings being sponsored by the city on Boston's 2024 Olympics bid. Report aired February 6.
Boston Parade Hails Super Bowl Victory for Pats
Video. Fans celebrate the fourth Super Bowl victory by the New England Patriots with a duck boat parade through downtown Boston. Report aired February 4.
New Shop in West Roxbury for Designer Pastries
Video. The owner of a wholesale and online pastry company opens a storefront in West Roxbury, with help from a Samuel Adams micro-lending program. Report aired January 30.
New Affordable Housing Developed in Brighton
Video. Work is completed on 20 town homes with 2 and 3 bedrooms developed in Brighton for middle and moderate income buyers. Report aired January 30.
Fans Brave Deep Chill for Patriots Send-off
Video. Hundreds withstand the cold on City Hall Plaza to give the New England Patriots a warm send-off before their flight to the Super Bowl in Phoenix, Arizona. Report aired January 26.
Forum Looks at Racial, Police-Community Divide
Video. A forum on the divide between police and communities of color, presented by Alpha Phi Alpha Fraternity and Myrtle Baptist Church, takes place in Roxbury. Report aired January 22.
53 New Training Grads Join Boston Fire Dept.
Video. After 20 weeks of training, 53 graduates from Boston Fire Academy take assignments to response companies on the Boston Fire Department. Report aired January 16.