New Shop in West Roxbury for Designer Pastries
Video. The owner of a wholesale and online pastry company opens a storefront in West Roxbury, with help from a Samuel Adams micro-lending program. Report aired January 30.
New Affordable Housing Developed in Brighton
Video. Work is completed on 20 town homes with 2 and 3 bedrooms developed in Brighton for middle and moderate income buyers. Report aired January 30.
Fans Brave Deep Chill for Patriots Send-off
Video. Hundreds withstand the cold on City Hall Plaza to give the New England Patriots a warm send-off before their flight to the Super Bowl in Phoenix, Arizona. Report aired January 26.
Forum Looks at Racial, Police-Community Divide
Video. A forum on the divide between police and communities of color, presented by Alpha Phi Alpha Fraternity and Myrtle Baptist Church, takes place in Roxbury. Report aired January 22.
53 New Training Grads Join Boston Fire Dept.
Video. After 20 weeks of training, 53 graduates from Boston Fire Academy take assignments to response companies on the Boston Fire Department. Report aired January 16.
New Shelter Opens for Displaced Homeless
Video. A new shelter opens on Southampton Street, with plans to eventually serve most of the population displaced by the closing of the Long Island Bridge. Report aired January 15.
Charlie Baker Takes Office as Governor
Video. Charlie Baker takes office as Governor, promising to move rapidly on problems such as opiate addiction, and to work for more opportunity throughout Massachusetts. Report aired January 8.
Three Kings and Latino Contribution Celebrated
Video. A "Three Kings Day" event at City Hall celebrates a Latino tradition and the contribution of city employees from Boston's Latino community. Report aired January 6.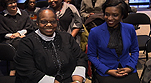 New Members Join Boston School Committee
Video. Mayor Walsh introduces the two newest members he appointed to the Boston School Committee--Jeri Robinson and Regina Robinson. Report aired January 5.
Speak-Out Held on Police-Involved Shootings
Video. A speak-out on police-involved shootings in Boston takes place at a church in Roxbury, with exchanges at times tense between officials and the community. Report aired December 19.
New Training Grads Boost Trade Union Diversity
Video. Sixteen graduates take a step toward increasing diversity in Boston trade unions, thanks to training from Building Pathways. Report aired December 12.
Mayor Walsh Calls for Growth, Inclusion, Boldness
Video. At a Greater Boston Chamber of Commerce forum, Mayor Walsh calls for more workforce housing, more bold design in projects, more inclusion. Report aired December 10.
Work Starts on Bruins Practice Facility in Brighton
Video. Construction begins on a new practice and training facility in Brighton for the Boston Bruins, at the Boston Landing complex developed by New Balance. Report aired December 10.