Innovation Center Opening in September
Video. City officials visit the site of the world's first free-standing public innovation center opening later this year in South Boston. Report aired May 22.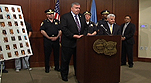 Officials Call Gang Bust Strike Against Violence
Video. Police and prosecutors explain the sweep targeting a Roxbury neighborhood with a long history of drug traffic and violence. Report aired May 22.
Bill Walczak Discusses Candidacy for Mayor
Video. Long-time head of the Codman Square Health in Dorchester Bill Walczak talks about his candidacy for Mayor of Boston. Interview aired May 21.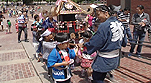 Japan Festival in Boston Held on City Hall Plaza
Video. The Japan in Boston Festival, held on City Hall Plaza, provides a chance to sample Japanese food, music, and culture. Report aired May 20.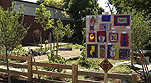 Mayor Announces $1.8 Billion in Capital Projects
Video. Mayor Menino announces a five-year plan for $1.8 billion in capital spending projects on everything from roads to buildings and accessible playgrounds. Report aired May 17.
Rally Spotlights Cuts in Preschool, Housing
Video. A coalition of groups draws attention to the effect of automatic federal budget cuts on preschool and rental housing subsidies. Report aired May 16.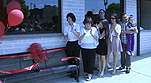 Dedication Honors East Boston Businessman
Video. A bench is dedicated outside a restaurant in East Boston's Orient Heights Square in memory of businessman and neighbor Jerry Zullo. Report aired May 16.
Felix Arroyo Discusses Candidacy for Mayor
Video. City Councilor At-large Felix G. Arroyo discusses his candidacy for Mayor of Boston, and his background in politics and labor organizing. Interview aired May 15.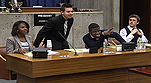 Student Debaters Compete in Council Chamber
Video. Students from Boston high schools show off their debate skills in a competition held in the Boston City Council's Iannella Chamber. Report by Luke Jones. Aired May 15.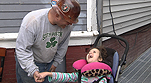 Home Improvements Help Cancer Survivor
Video. A home makeover in South Boston helps provide more space and contact for 8 year-old cancer survivor Sydni Pecevich. Report aired May 14.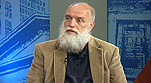 Ureneck Discusses Candidacy for State Senate
Video. Joe Ureneck, Republican nominee for State Senator in the 1st Suffolk District, discusses his candidacy in the special election on May 28. Interview aired May 13.
Slain Boston Police Dept. Detective Honored
Video. A dedication in Jamaica Plain honors Sherman Griffiths, the Boston Police Detective who was killed in a drug raid in 1988. Report aired May 13.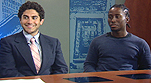 Teens, Candidates to Meet at Peace Conference
Video. A speak-out between young people and candidates for Mayor of Boston is planned in this year's Peace Conference organized by Teen Empowerment. Interview aired May 10.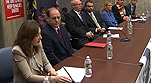 Leaders Show Support for Immigration Reform
Video. Business, labor, and political leaders voice support for national immigration reform and letting more immigrants have a chance for legal status. Report aired May 10.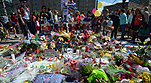 Archivist Describes Salvage of Memorial Items
Video. Assistant Archivist with the Boston City Archives Marta Crilly talks about salvaging weather-sensitive items from the bombing memorial at Copley Square. Interview aired May 8.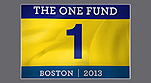 Administrator: Limits to Bombing Compensation
Video. At a town meeting, the administrator of One Fund Boston, Kenneth Feinberg, explains that compensation for victims of the Boston Marathon bombing will be limited. Report aired May 7.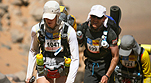 Teacher Competes to Win Laptops for Students
Video. Liz Byron, a 6th grade teacher at the Gardner Pilot Academy in Brighton, completes a 147-mille footrace in the Sahara Desert to raise money for student laptops. Interview aired May 6.
Marty Walsh Discusses Candidacy for Mayor
Video. State Rep. Marty Walsh (D-Dorchester) discusses his thought about running for Mayor of Boston. Interview segment aired May 2.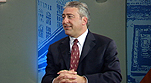 David Bernstein Dissects State Senate Primary
Video. David Bernstein, formerly of The Boston Phoenix, analyzes the victory for Linda Dorcena Forry in the Democratic primary for State Senator in the 1st Suffolk District. Interview Aired May 2.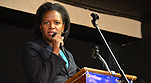 Joyce Ferriabough on Primary Election Result
Video. Political consultant Joyce Ferriabough discuss the results in the Democratic primary for state senator in Boston's 1st Suffolk District. Interview aired May 1. See also: vote analysis.