Speak-Out Held on Police-Involved Shootings
Video. A speak-out on police-involved shootings in Boston takes place at a church in Roxbury, with exchanges at times tense between officials and the community. Report aired December 19.
New Training Grads Boost Trade Union Diversity
Video. Sixteen graduates take a step toward increasing diversity in Boston trade unions, thanks to training from Building Pathways. Report aired December 12.
Mayor Walsh Calls for Growth, Inclusion, Boldness
Video. At a Greater Boston Chamber of Commerce forum, Mayor Walsh calls for more workforce housing, more bold design in projects, more inclusion. Report aired December 10.
Work Starts on Bruins Practice Facility in Brighton
Video. Construction begins on a new practice and training facility in Brighton for the Boston Bruins, at the Boston Landing complex developed by New Balance. Report aired December 10.
Boston Students Join "Hour of Code" Effort
Video. More than half the students in the Boston Public Schools take part this week in an "Hour of Code," as part the expansion of computer science learning. Report aired December 9.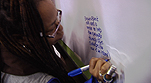 Summit Eyes New Help for Black and Latino Males
Video. Mayor Walsh hosts a summit in Roxbury, as part of an effort to help Black and Latino males through President Obama's initiative, "My Brother's Keeper." Report aired December 8.
Recovery Program Move to Roxbury Opposed
Video. Neighborhood residents strongly opposed a possible relocation of recovery programs from Long Island to a former hospital in Roxbury. Report aired December 5.
Youth and Family Center Opens in Lower Roxbury
Video. The opening takes place for a new youth and family center in the Lenox/Camden public housing development in Lower Roxbury. Report aired December 4.
Grant to Aid Resilience Through Racial Healing
Video. Officials announce a grant from the Rockefeller Foundation to help strengthen resilience in Boston by healing deep scars left by the city's racial divide. Report aired December 3.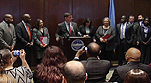 A Push and Step Forward for City Diversity
Video. A new report calls for more inclusion of Latinos in Boston's leadership positions, while Mayor Walsh introduces a new team for diversity and inclusion. Report aired December 2.
Taxi Drivers Press for Regulating New Competition
Video. Before packing a City Council hearing, Boston taxi drivers call for extending regulations to include their increasing competition from ride-sharing operators. Report aired December 1.
Reaction from Roxbury to Decision on Ferguson
Video. People in Roxbury react to the grand jury's decision not to bring charges for the killing of an unarmed black teenager by a white police officer. Report aired November 25.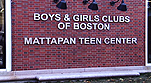 Boys & Girls Clubs Opens Mattapan Teen Center
Video. Boys and Girls Clubs of Boston opens a new teen center at the former site of a branch library on Hazelton Street in Mattapan. Report aired November 24.
A Trickle-Down Remedy for Groundwater Loss
Video. Porous pavement helps reduce depletion of groundwater needed for buildings in the South End, while curbing pollution. Report aired November 21.
Holiday Arts Events on Tap, with Discounts
Video. Thanks to discounts from MayorsHoliday.com, more people in Boston can have access to arts events and performances over the holidays. Report aired November 19.