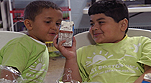 Meals Program Fills Gap for Boston Students
Video. A program offering free lunches at several locations in the city helps fill a nutrition gap for Boston students, many of them from needy families. Report by Megan Allison. aired July 24.
East Boston Site Acquired for Mixed Housing
Video. A community-based non-profit acquires a former industrial site in East Boston for redevelopment as mixed-income housing. Report aired July 22.
Teens Gather for Seminar on Civic Engagement
Video. More than 600 teens in the "MLK Summer Scholars" job program gather at Boston University's Agganis Arena for a seminar on civic engagement. Report aired July 18.
Work Starts on Section of Ink Block Development
Video. Work starts on "Sepia the Condos," luxury units in a section of the Ink Block development, around the former site of the Boston Herald in the South End. Report aired July 16.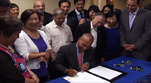 New Law Expands Access to Bilingual Ballots
Video. A new law expands access to bilingual ballots in Massachusetts, with candidates' names transliterated into Chinese and Vietnamese characters. Report aired July 15.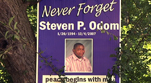 Garden
Dedicated to Honor Peacemaking
Video. A garden in Dorchester is dedicated in memory of Steven Odom, whose death in a shooting at age 13 inspired efforts in violence prevention and peacemaking. Report aired July 14.
Debris Cleanup Season Starts in Boston Harbor
Video. With the end of holiday events on the water, The Boston Harbor Association again launches its floating debris cleanup program. Report aired July 10.
City Plans More Help for Homeless Veterans
Video. City officials try to enlist more help from business and community leaders to end homelessness among veterans in Boston by 2015. Report and interview aired July 9.
Mayor Picks Joseph Finn as Fire Commissioner
Video. After a nationwide search, Mayor Walsh stays close to home in selecting as the new Boston fire commissioner Deputy Chief Joseph Finn. Report aired July 7.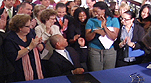 Governor Signs Domestic Workers Rights Bill
Video. Governor Patrick signs the "bill of rights" for domestic workers in Massachusetts, backed by immigrant advocates and organized labor. Report aired July 2.
City Awards Grants to Close "Opportunity Gap"
Video. The city awards more than $7 million in grants to community organizations closing the "opportunity gap" through education and jobs programs. Report aired July 1.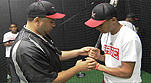 Program Helps Students in Baseball, Learning
Video. A Roxbury program, The BASE, helps students elevate their skills as athletes and do better in school. Report for BNN News by Megan Allison. Aired July 1.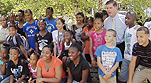 Summer Health and Safety Precautions Urged
Video. City officials urge health and safety precautions for summertime, especially for vulnerable populations exposed to high heat and humidity. Report aired June 30.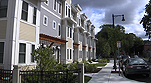 Old Colony Housing Rebuild at Midway Point
Video. The rebuilding of the Old Colony public housing development in South Boston, whose original buildings date from 1940. reached the midway point. Report aired June 26.