Student Influx Prompts Off-Campus Enforcement
Video. As college students settle down for a new school year in Boston, city inspectors log violations in off-campus housing. Report aired September 2.
Book Fair Celebrates Family Value of Reading
Video. The 27th Annual Charles C. Yancey Book Fair celebrates the importance of parents and children reading at home, and having books of one's own. Report aired September 2.
Vigil in Brighton Celebrates Life of Dawnn Jaffier
Video. One thousand people gather at a park in Brighton to celebrate the life of Dawnn Jaffier, the teacher who was killed in a shooting August 23. Report Aired August 29.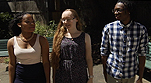 Mattapan Teens Celebrate Summer Job Gains
Video. Teens in Mattapan celebrate their gains from experience in the SummerWorks program run by the anti-poverty agency ABCD. Report aired August 15.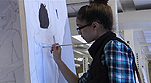 Teens in Dorchester Create Series of Self-Portraits
Video. Teens in Dorchester create life-sized self-portraits for public display in a project organized by Viet-AID and Boston Centers for Youth & Families. Report aired August 14.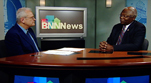 Congressman James Clyburn Discusses Memoir
Video. US Rep. James Clyburn of South Carolina, the third highest ranking Democrat in the US House, talks about his memoir on a life in the civil rights movement and politics. Interview aired August 14.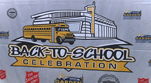 A Race to Fill Backpacks for 40,000 Students
Video. The city and the Salvation Army get help from the TD Garden with putting school supplies into backpacks for more than 4,000 students from needy families. Report aired August 12.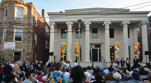 Roxbury Celebrates Mansion Restoration
Video. A housewarming takes place in Roxbury for the Alvah Kittredge mansion, a long-dilapidated Greek Revival building restored by Historic Boston, Inc. Report aired August 12.
Morton Street Closed for Work on New Bridge
Video. A section of Morton Street in Mattapan/Dorchester is closing for ten days to all for replacement of a bridge over rail tracks. Report aired August 8.
Volunteers Ready Backpacks for Students
Video. Hundreds of volunteers organized by Cradles to Crayons fill backpacks to help thousands of students from low-income families get the new school year off to a better start. Report aired August 8.
Official Speak Out for Airport Service Workers
Video. State and city officials voice support for organizing drive by contract employees at Logan Airport to improve pay, benefits and working conditions. Report and interview aired August 7.
Urban Farming Ventures Attempted in Boston
Video. With help from City Growers and the Urban Farming Institute, vacant lots in Boston are used as a local food source and boost for healthy nutrition. Report by Peter Zampa. Aired August 6.
Group Pushes for Action on Unsolved Murders
Video. The Women Survivors of Homicide Movement Calls for action on Boston's higher-than-average rate of unsolved murders over the last ten years. Report aired August 1.
Teens Try to Mobilize More Voters in Roxbury
Video. Teen leaders in a campaign backed by community-based non-profit and advocacy groups, try to mobilize and motivate voters in Roxbury. Report aired July 30.