Mayor Outlines Steps on Growth and Permitting
Video. Mayor Walsh, in his first address to the Boston Municipal Research Bureau, announces steps to speed up permitting, and to attract new jobs and young talent. Report aired March 7.
K2 Students Challenged to Read 100 Minutes
Video. K2 students in the Boston Public Schools are challenged to read 100 minutes at home in the week starting March 10 by Mayor Walsh and ReadBoston. Report aired March 6.
Licenses Sought for Undocumented Immigrants
Video. Immigrants and advocates makes case for allowing foreign nationals without legal status in the US to get a Mass. driver's license. Report aired March 5.
"Peace Parade" Set for Return to South Boston
Video. Pat Scanlon, Coordinator with Veterans for Peace, talks about the alternative parade planned for another St. Patrick's Day march in South Boston. Interview aired March 5.
Hearing Held on Boston Marijuana Dispensaries
Video. The City Council holds a public hearing about two sites in Boston with preliminary approval for selling medical marijuana. Report aired March 4.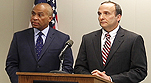 Inspector General Calls for Drug Lab Safeguards
Video. Mass. Inspector General Glenn Cunha calls for new training and management procedures to prevent any future tampering of drug tests by the state. Report aired March 4.
Students Lead City Hall Black History Celebration
Video. Students from the Orchard Gardens K-8 Pilot School in Roxbury highlight the Black History Month celebration in the Boston City Council Chamber. Report aired February 27.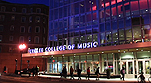 Ribbon-Cutting Held for New Berklee Dorm Tower
Video. A ribbon-cutting takes place for the first new building developed in Boston by Berklee College of Music, a 16-story dorm tower on Mass. Ave. Report aired February 27.
Needs Survey Starts in Boston Public Housing
Video. The city sends trained volunteers to survey the needs of the elderly and people with disabilities in Boston's public housing developments. Report aired February 26.
New Ads Aim at Gun Trafficking Role of Women
Video. New MBTA ads amplify a campaign by Citizens for Safety to discourage women from straw purchases and concealment of guns that might be used in crime. Report aired February 25.
Mayor Walsh: Administration Diversity to Increase
Video. After a report that more than two-thirds of the top jobs in his administration were filled by whites, Mayor Walsh says there will be more diversity to come. Report aired February 21.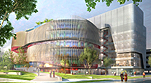 NU Starts Work on Science/Engineering Complex
Video. Groundbreaking takes place for a new interdisciplinary science and engineering complex at Northeastern University. Report aired February 21.
Teens in New Campaign for Jobs, Opportunities
Video. A coalition of teens campaigns for a new round of public funding and private partnering to provide summer jobs, career and prevention programs. Report aired February 20.
Startups Find New Perch, Help with Connections
Video. WeWork opens two locations in Boston offering startups a source of flexible office space and help with networking. Report aired February 20.
Youth Job, Violence Prevention Programs Touted
Video. Officials and community activists make the case for new state funding to support youth job and violence prevention programs. Segment aired February 19.