About BNN News
Directions
Copies of Segments
BNN News Archive
Boston Blogs
Boston Photos
BNN
Photo Galleries

Around Boston
Boston photos, from 1970's to the present.
Dorchester Day Parade
On Neighborhood Network News July 31
State legislators move to give Boston local control over liquor licensing. A leader of the Boston Bar Association, Carol Starkey, talks about making probation more effective, and Rev. George Walters-Sleyon talks about a conference to help people returning to the community from prison. And Bill Forry has the report from Dorchester.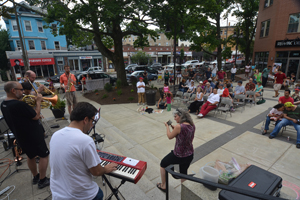 The band Opposite People plays in front of Blessed Sacrament Church in Hyde Square, as part of the 1st annual JP Porchfest, with free music at 35 locations in Jamaica Plain on July 19. (Lovett photo) More photos.