Homelessness and Healing
March 1, 2016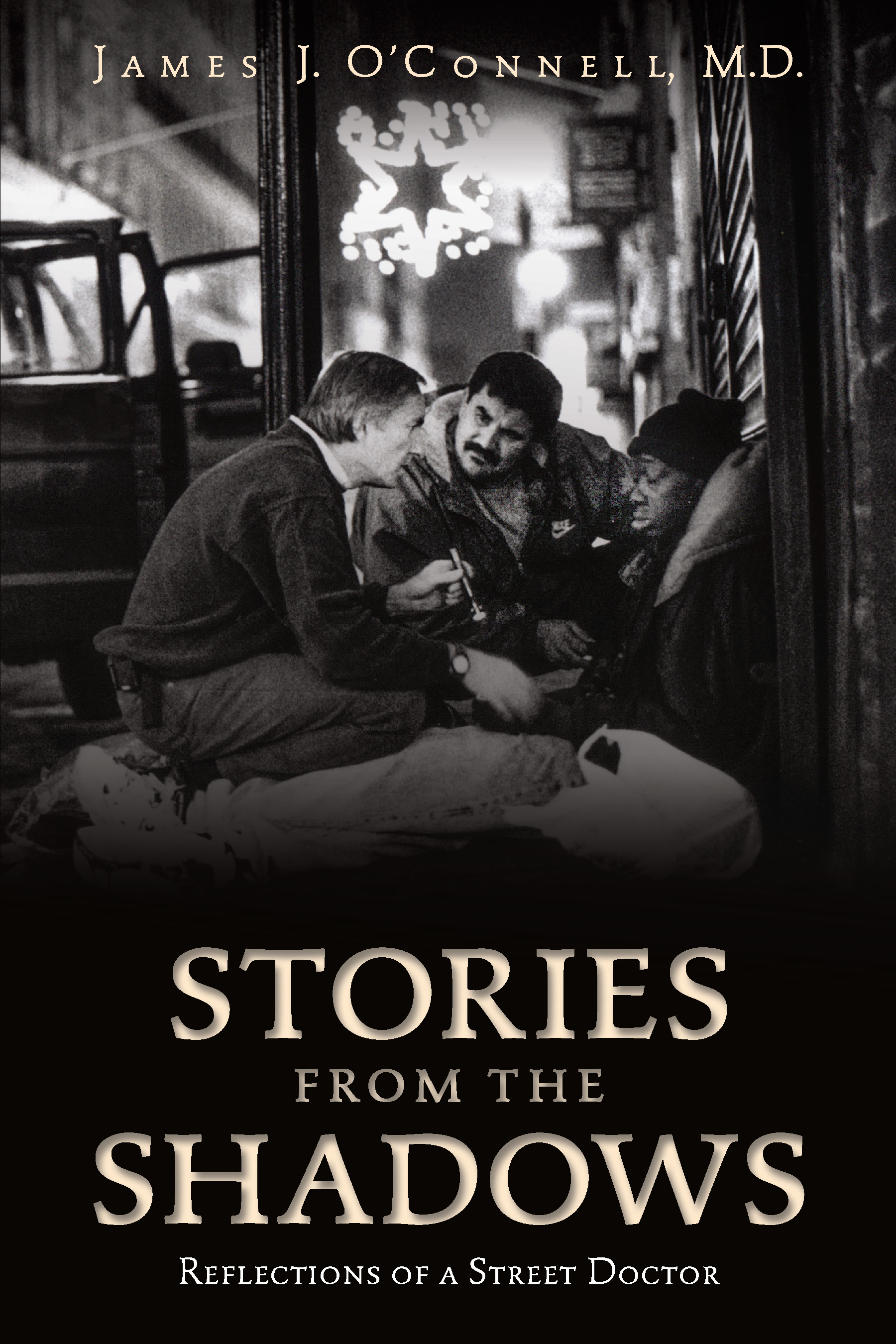 From more than thirty years of medical practice, Dr. James O'Connell knows the symptoms of homelessness are more than physical. As described in his book Stories from the Shadows, homelessness is a condition that can be marked by bodily disfigurement, life-threatening infections, or a relapse back into substance abuse. It can also be a state of exile in which someone lives without an active human connection to a past, even long periods without being spoken to as an individual with a name.
Widely asknowledged as a pioneer in health care for the homeless, O'Connell begins the story of his practice as an apprentice to nurses running a clinic for homeless men at Pine Street Inn. The efforts of O'Connell and his team to develop a new practice model were part of a national response to increasing numbers of vulnerable people living on the streets--on the heels of deinstitutionalization and the loss of inexpensive rooming house units, especially in Boston's South End.
The practice model works on multiple fronts, from a street outreach van to a respite care center that would be named for one of O'Connell's mentors, Barbara McInnis. But the foundation of the practice is set early on at Pine Street Inn, when O'Connell starts getting to know the guests by soaking their feet in a solution of water and disinfectant. He calls the footsoak "a gesture of respect" for an individual's personal space: "In keeping with the obvious biblical allusion, the footsoak inverts the usual power structure and places the caregiver at the feet of each patient and far from the head."
As described, the footsoak reflects the attitude of Kip Tiernan, the founder of the women's shelter, Rosie's Place--that service to the homeless is to be driven not by charity, but by social justice. For O'Connell, the attitude also has a practical benefit. Deferring the conventional and more formulaic interrogation, he starts by being attentive and listening. Eventually, he becomes attuned to needs that otherwise might not have been communicated or detected.
Sometimes the medical encounters are successful, as people emerge from homelessness into stable self-sufficiency and permanent housing. In other cases, even the "housing-first" strategy, with the potential for more stability, fails to prevent a relapse or a return to street.
As the series of vignettes in the book show, medical treatment and even housing itself are only a means to an end. For people beset by persistent poverty and severe trauma, the goals can be anything from the domesticity of a pioneering same-sex marriage to not dying alone. Or, in one case, it's the veteran who, with O'Connell as a chaperone, is furloughed from his hospital deathbed for a last cigarette and a Zagnut bar.
Stories from the Shadows is not a policy tract, but it contains some of the makings of policy, including observations drawn from multiple cases. O'Connell cites a survey showing that Boston's homeless are hardly unknown to medical providers, with multiple trips to emergency rooms when a preventable crisis requires costly treatment. Hence the case for a health care strategy based on consistency and one-to-one presence.
Efforts to build a continuum of care can also be thwarted when programs (for instance, on Long Island) are disrupted, or if homeless people feel shelters are inhospitable--a common problem for people living on the street as couples. If the growing problem of substance abuse prompts a call for more access to effective treatment, this also--along with persistent poverty--puts the limitations of medical science in stark relief.
In his story, A Country Doctor, Franz Kafka took that a step further by depicting the ritual of a medical encounter as a meagre stand-in for a higher power most keenly perceived through its absence. His doctor is worn by age and beset with problems in his daily life. "Writing prescriptions is easy," he reflects, "but coming to an understanding with people about the rest of it is difficult."
In treating the homeless, "the rest of it" is where the healing begins.
Note: proceeds for the sale of the book benefit the Boston Health Care for the Homeless Program.
See BNN News interview with Dr. James O'Connell from February 29, 2016.